And there is still another relation between Shaggy and Austria, and again the connecting theme is football: For the UEFA Euro 2012, held by Poland and Ukraine, Shaggy did a song together with one of the most famous singers of Austria, Leo Aberer. The song is called "Football is my life" and was successful in several European countries, such as Spain, where the song held six weeks at number 1. The producer, Carinthian Christian Cesar, was awarded a gold disc.
Leo Aberer met Shaggy at the "Seefesttage 2009" in Carinthia. There, Aberer went over to Shaggy within the backstage area, and has laid him an acoustic reggae-rap. Shaggy was so excited that he ran to wrest the promise to do a song togehter with Aberer. Three years later, they did "Football is my life"! And another 2 years later, in 2014, Aberer and Shaggy coloborated again- for the Football World Cup in Brazil in 2014 with the song "Football minha vida".
On the other hand, Fiat has to be mentioned. Shaggy has good connections to the company- evidence for this is a photo, showing him with Olivier Francois, Chief Marketing Officer, Chrysler Group and Head of Fiat Brand (2nd pic from l). Fiat took over the sponsorship for the 3 Videos: 'If U slip U slide' with Melissa Musique (3rd + 4th pic from l.), 'Gotta get back my baby' together with Sting (2nd from r.) and 'Just one lifetime' again with Sting (right side). As a compensation, Fiat cars are shown in all of them. Here are some impressions:
Shaggy´s top 10 things Ladies should do for their man on Valentines Day!
Cook a good meal, something he likes
Ladies wear lingerie while cooking!
Set a bath with some sort of aroma therapy scent, something coconut to get that island vibe going
Very important! Shut down your phone, it's Valentine's Day your allowed to.
Put on a old school movie like Ghost, something romantic (No porn) break out the camera and make your own porn
Don't forget to erase the tape / hard drive etc. (Refer back to #6)
Ladies, now would be a good time to break out a gift .. Something your dude might really want jewelry / watch / Jordan's or couple months prepaid on his rent (if you got that broke dude)
buy Shaggy's new single ?#?INEEDYOURLOVE?
Ladies, serenade you man by singing Shaggy's #INEEDYOURLOVE
Enjoy a bottle of ?#?CocoYac? AKA turn up juice, before you do the dirty!
Fitting to these 10 golden rules here are some perfect Pick-up lines for today's man by Mr. Lover Lover himself - so if it does not work then... :-)
Anyone who wants his sweetheart to be "Shaggy´s Angel" for Valentine's Day will find the matching outfits on www.raetownapparel.com . Suitable designs are also available for da fellas!!!!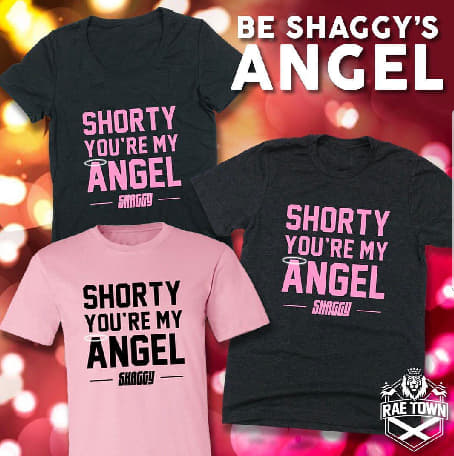 In 2013 Shaggy decided to bring together with his friend Machel Montano, this festival to Jamaica. His intention is to bring the joy of life closer to the Jamaicans and make them forget about everyday life for a few hours .

Like everything Shaggy attacks, this plan also was a gigantic success. People were thrilled and 2015 it was now already in the 3nd edition, with many more visitors and sponsors.

A huge hit in the US is "Carpool Karaoke" with James Corden. As part of the program, he drives celebrities around in a car. Fun conversations paired with vocal performances are part of the show. As part of the 60th Grammy Awards in February 2018, a special issue with Shaggy was aired- not in a car but in the New York subway.